In the virtual worlds of computer security, networking, and email, the lines separating the inner workings of the current government in Washington D.C. and the outer world of partisan politics exist only in theory.
The recent discovery that top strategists emailed plans for dismissing 8 U.S. Attorneys using accounts on the gwb43.com and georgewbush.com domains, hosted and paid for by the RNC, is just one indication of the theoretical nature of this separation.
Not only are the lines now blurred, but they became so years ago. Indeed, at the very inception of the Bush Administration, there was an effort to leverage partisan loyalty on the outside to valuable contracts inside of the dot gov information infrastructure.
The recent stories, diaries and articles surrounding the use of external email servers by senior White House members only scratch the surface. Come along to discover who is behind the dot com twins, georgewbush and gwb43, but be careful not to trip over the OhioGOP line below.
At ePluribus Media, we've spent many months investigating the 'virtual real estate' and why the neighbors seem to look so much like each other. The researchers were struck by the image and how it clarified the linkages: ohgop_index_nline.gif.
As one can pretty much guess from the name, it's an index divider graphic used for the Ohio GOP.  That image is one that NewMedia Communications used on a website built for the Ohio GOP. (The CEO of New Media Communications is one Mike Connell; remember that name if you don't already know it.)
Here's the html used to do so:
img src="http://ohiogop.org/images/ohgop_index_nline.gif"
Simple enough. Nothing unusual. Nothing out of the ordinary.   Only, why is there is an image with exactly the same name and, indeed, the very same visual look on Intelligence.House.Gov?
Note the name of the gif file in the html used on the House Government site:
And just in case one misses the similarities, here are two screen caps of the relevant information about the two lines... side by side: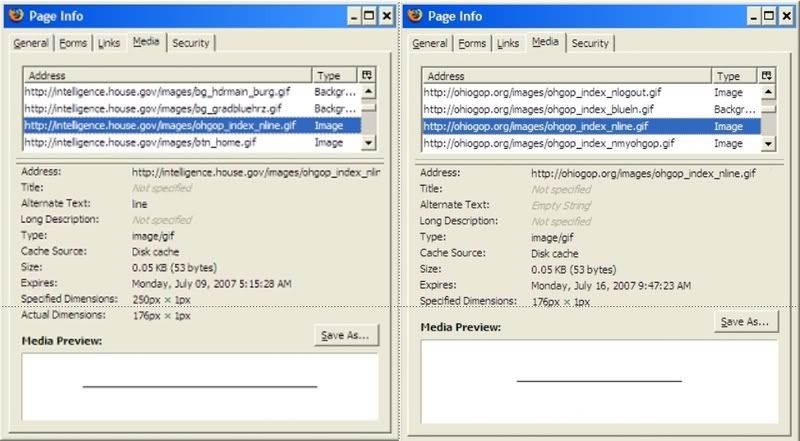 click on image for larger view
So who is this Mike Connell whose company was responsible for the OhioGOP site?  What do we know about his company?
Mike Connell's association with the Bush family began as far back as 1988 with George H.W. Bush's campaign for President and continues through to the present day. Throughout their association, the Bush family has had a close relationship with several of Connell's business interests.  As Mr. Connell's businesses grew, they expanded to encompass much of the Republican Party, from the RNC to the Republican Governors Association and onward to more.
"Inside Business," Nov. 2, 1999:
Interview with Mike Connell
"I wouldn't be where I am today without the Bush campaign and the Bush family because the Bushes truly are about family and I'm loyal to my network. I'm loyal to my friends and I'm loyal to the Bush family, so there is only once place I can be in 2000.'" Connell refuses to comment on what role that might be, though. 1
Mike Connell was well-timed to wed his political experience to the burgeoning Internet's demand for computing savvy. Technomania.com has been the homepage from which Connell has launched cyberspace campaigns for his "'Who's Who' of Republican politics."
His timing was also right for putting Jeb.org on the web and Jeb Bush into Florida's governor mansion (1998, 2002) whose campaigns hopscotched with George W. Bush's national campaigns using GeorgeWBush.com in 2000 and 2004. His Presidential campaigns have achieved the highest visibility but even the face of the national organization, GOP.com, itself is sculpted by Mike Connell. In fact, the RNC counted on Connell to coordinate 36 state efforts with the Republican Governor's Association (rga.org).
Following these threads, ePluribus Media researchers have pieced together information that suggests that the influence Mr. Connell has had in his role as the technical guru of everything Republican. He has close connections to a separate entity GovTech Solutions - which holds numerous federal contracts and administrative access to the servers behind the Congressional firewall.
Indeed, remember one of those domains from which those White House strategists used to email plans to purge the 8 U.S. Attorneys? www.georgewbush.com -- the very domain at which one KR (kr@georgewbush.com) received email pertaining to strategies for firing U.S. Attorneys. Tom Jackson on New Media's own web page Latest News 10-01-2004 makes the connection between New Media and georgewbush.com:
Mike Connell is busy mixing business and politics again.
After redesigning George W. Bush's presidential campaign web site in 2000, when the Republican candidate's strategists decided they needed more Internet expertise than they had in house, Mr. Connell's New Media Communications in Richfield is the web developer behind the latest version of www.georgewbush.com.
Which brings us back to the question: how did a line graphic on a website built by NewMedia for the Ohio GOP end up on the House Intelligence web site built by GovTech?
Who Owns Govtech?
The 2007 SBA Firm Profile shows Mike Connell as the Operations Manager. His wife, Heather Connell, is listed as President and CEO. The business is identified as a woman-owned company.
However, the articles of organization shows that Mike L. Connell was apppointed the agent "upon whom any process, notice, or demand required or permitted by statute to be served upon the limited liability company may be served."
There are three principals named in this document: Mike Connell, Thomas J. Synhorst and Heather Connell.
To understand Govtech's reach within the government, look at a few clients' sites that it has recently featured.
Bush-Cheney Transition
Using cutting-edge XML programming, GovTech Solutions developed the transition web site for President-elect George W. Bush. The site's advanced security encryption provided a mechanism for job seekers to upload their resumes and personal information for administration jobs.
Project Safe Neighborhoods
PSN is aggressively implementing the Bush Administration's strategy to reduce gun violence in America. The effectiveness of the PSN program is largely based on the ability of federal, state, and local agencies to cooperate in a unified offensive led by the United States Department of Justice. The new web site is playing a key role in helping coordinate the activities of the various agencies and the citizens and community leaders who seek to help them.
House Permanent Select Committee on Intelligence
The Intelligence Committee redesigned Web site offers a monthly schedule, a Fact of the Day and Intelligence Triva as well as Frequenly Asked Questions area. As part of the redesign, GovTech Solutions reworked the site navigation to allow for a dynamic fly-out menu allowing users to find information with one click.
Results.gov
GovTech Solutions teamed with The Council for Excellence in Government and The White House to develop an informational online reference tool for presidential appointees. Exemplary of GovTech design, the site includes critical information for White House and other key appointees, including the president's management agenda and ethics rules explanations.
The line
When Mike Connell started up Govtech, he provided as his reasoning:
New Media Communications Inc. plans to spin off a new company, GovTech Solutions, to handle its government web site accounts.
...
Mike Connell, president and chief executive officer of New Media Communications, has decided to roll out a separate company for its political work because government and corporations are "two animals different enough to have it make sense."2
So what does this mean?
These discoveries raise important questions such as:
What happens to all the data after 2008 elections?
Will these systems be left in place once a new administration is elected?
How will the new administration be assured that they are not being monitored by Govtech across that blurry line?
Remember, in 2001: "GovTech Solutions is the only private-sector company to gain permission from HIR to place its servers behind the firewall, Mr. Connell said."3
Footnotes
1Although ePluribus Media Fact Checkers validated the interview quotation exists in an archived version of the NewMedia site, there is no evidence of it in articles on Connell in that time frame from Inside Business.
2Crain's Cleveland Business, April 18, 2001, Pg. 12, Politics prime focus of New Media spinoff, Shasta Clark, CrainTech.com.
3Crain's Cleveland Business, April 18, 2001, Pg. 12, Politics prime focus of New Media spinoff, Shasta Clark, CrainTech.com
About the Authors: ePluribus Media staff writers, Luaptifer and Todd Johnston
ePluribus Media Researchers, Contributors, Fact Checkers & Staff Writers: BronxDem, Kfred, Internets, Harmonyguy, standingup, wanderindiana, roxy, silence, susie dow, D.E. Ford, zan, avahome. sawcielackey, sluggojd, HeyThereItsEric, and Cho